There are a few differences between foundation and BB cream so should you wear foundation or BB cream when it comes to your everyday makeup?
The answer really depends on your skin type as well as what look you are going for with your makeup. We all know how confusing it can be picking the right type of makeup that matches your skin and fits your skin type.
The more you know about each of these makeup items the better decision you can make when it comes to choosing which one to wear.
You may even decide that foundation and BB cream can work for different days in your life.
Foundation Vs. BB Cream
The BB in BB cream stands for "beauty balm" or "blemish balm" depending on the company who manufacturers the cream.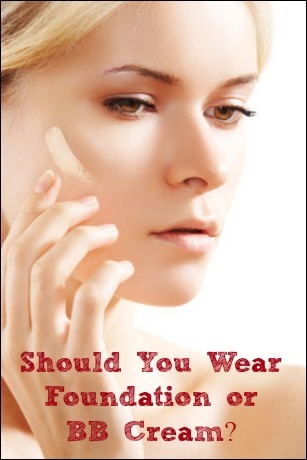 It was first made to help even out skin tone as well as help with things like acne and age spots.
Foundation has been around for quite a long time and although there are several different formulas out there nowadays the basic job of formula is to help give you an even skin tone and a base for the rest of your makeup.
Now, with that basic definition of BB cream and foundation it may sound like they are exactly the same, but there are differences that may sway you in favor of one or the other.
Consistency
Foundation has a thicker consistency than BB cream and can feel more caked on the skin if you get a really thick formula.
Most people compare BB cream to something like a tinted moisturizer as it has a thinner consistency and doesn't feel as heavy on your skin.
Since foundation is thicker, most women find that they get a better coverage with it than with a BB cream.
But for some women they like the lighter feel of BB cream rather than a heavier foundation on their face.
Skincare Bonus Features
What really attracts some women to BB cream is that it has skincare benefits built into the formula.
You will find some BB creams help with acne breakouts while some others are designed to specifically help with age spots or fine lines.
There are some foundations that also have these extra bonuses in them, but most do not.
Color Options
If you have ever shopped for foundation before you probably know how many different colors you can choose from when it comes to foundation.
There are a wide range of shades and you will find that each company will offer up to 40 different foundation shades.
Some women find this overwhelming and will end up picking the wrong shade. On the other hand some women like the fact that they can match their skin tone exactly because of all the different shades offered.
With BB creams you will find that there is a wider range when it comes to what colors will match your skin tone.
For example, you may find that Maybelline BB Cream only offers 8 shades for BB cream but has 40 shades for foundation.
Application
BB cream was made to be applied with your fingertips while foundation can be applied with all sorts of different techniques.
With foundation you can use your fingers as well, but you can also use a brush or an applicator sponge. Each one of these tools will give you a smooth appearance when applying foundation.
Sun Protection
Most BB creams are made with SPF already in them so you don't need to apply a sunscreen before you use them.
You may also find that BB creams offer a higher SPF than most foundations.
If your foundation doesn't have SPF in it you can always use a foundation primer with SPF or you can use a sunscreen before you apply the foundation.
Skin Moisturization
I know that when I use some foundations, like other women who have dry or sensitive skin, it can tend to dry out my skin and cause that cakey skin appearance.
A BB cream will not cause that cakey appearance and tends to moisturize your skin rather than drying it out more.
BB cream actually has moisturizers built right into it so you don't need the lotion for your face if you do in fact have dry skin.
Basically, BB creams were made to be an all-inclusive makeup product that makes it super simple to apply and be done with your makeup.
It gives you more of a natural appearance for those days you want a simple, natural look but still helps give you that even skin tone you desire.
Some women prefer the look of foundation because it does give you more coverage and gives you that more "made up" appearance.
There are also some other creams in the market like CC cream and this is very similar to BB cream but it has more color in the formula and is basically an in-between of foundation and BB cream