In recent years, the popularity of jeans for curvy women has increased and is fast becoming a popular searched item. Finding out where to buy jeans for curvy women can certainly be an overwhelming task but fortunately there is hope. Being curvy can most definitely mean many different things including having a high waist to hip ratio or even having a curvy butt that accentuates the rest of your figure.
Factors to keep in mind when purchasing Curvy Jeans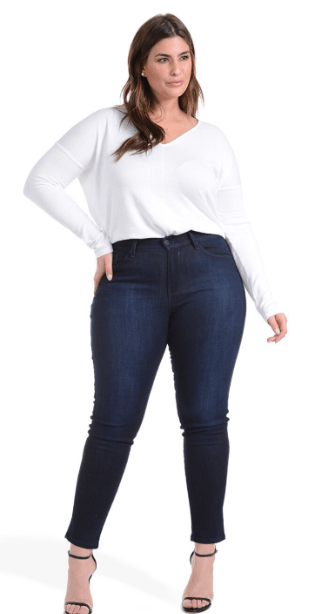 Distinguishing between jeans that are specifically designed for women with curvatures can be a challenge at times but your best bet is to simply shop around.
Recently, companies such as Old Navy, PZI Jeans, J Brand, Calvin Klein and others have started catering to this demand. In fact, they are becoming much more popular these days as it is certainly becoming a new trend in the fashion industry.
Before getting started, there are still many factors that you will definitely need to take into consideration. Purchasing a comfortable pair can truly make a world of difference so comparing different types is strongly recommended.
The differences between brand names is significant which is why women's designer jeans tend to cost much more compared to generic brands.
Popular brands to choose from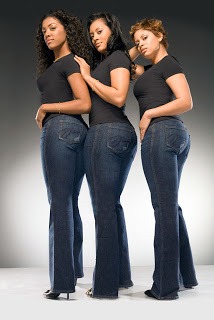 PZI Jeans released their launch of a unique collection of skinny jeans that were specifically made for curvy women which range from sizes 4 to 18. This company then came out with different styles and soon created the perfect skinny jeans for curvy women that became all the rage.
The notion that curvy women should not wear skinny jeans has definitely been proved by PZI Jeans.
Other popular brands that you can choose from include American Eagle,Avenue ,Levi's and others. Many of these types tend to fit different so in order to find the right fitting pair, simply try on as many as you can at a local department store.
It's also a good idea to get an outside opinion so be sure to bring a friend with you that can be able to give an honest opinion.
Perfecting fitting jeans are absolutely essential
When purchasing designer jeans for curvy women, getting the right size is absolutely important so getting jeans that fit well at the top are essential. Depending on your style, you may also choose to get jeans that have a slightly flared leg or a boot cut.
If you plan on wearing such clothing for a while, then it might be worth it to spend a little extra for a quality pair that has a good, strong seam.
While the price is certainly something that you should take into consideration, you can always search at online retail stores or even auction sites for discounted prices.
Just be sure that you do your research ahead of time so you can find the right brand, type and size. Simply try on as many pairs as you can at a local department store then check online in order to easily compare prices.
Consider spending a little extra for a quality pair of jeans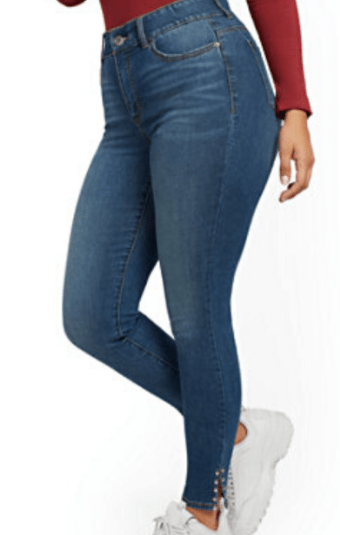 Some additional brands that you can consider that are fairly affordable include Lane Bryant, Torrid, Avenue or Old Navy. These companies also make petite jeans for women in addition to skinny jeans for women that are becoming especially popular these days.
Investing a little extra will most definitely be worth it as you will most likely be wearing quality pants most of the time.
Being comfortable and looking good in a pair of jeans for curvy women can really make a huge difference and can even help to boost your self confidence. The reason this is possible is for the simple fact that you will be able to find jeans that match the curvature of your body. This can hard at times so be sure that you try on different brands and types as some might feel different on you.
Additional tips on how to wear jeans for curvy women
Stretch jeans are made with a combination of cotton and spandex which gives a great fit but keep in mind that it will break in as you wear it more. Another alternative are low rise jeans which should usually only be worn if you have the body for it.
Purchasing jeans for women that have a simple boot cut will help to accentuate wider hips as it straightens your leg and slightly flares at the bottom.
When trying on different jeans whether you are tall or short a great tip is to first sit down and bend at your waist while you look at your back. If your underwear or thong shows, then you should probably either look into wearing it only with a longer shirt or getting a different pair of jeans.
Another alternative that you can choose depending on your body type are tapered or fitted pants.
The jeans you buy really depend on your physical features
Finding some of the best designer jeans for curvy women can be difficult depending on your stature and how tall or short you are. In general, short figured women should opt to get stretch denim jeans as this makes them appear taller.
Wearing attractive heals can also increase your length and also draw attention away from the upper part of the bottom and to your legs.
When it comes to jeans for tall women, you can opt with something that is super low rise as this will help to further accentuate your figure. Tapered jeans can give the appearance that you have wider hips and curvy thighs as these confirm to your body shape.
Just be sure that you try on different styles and types until you find one that is most comfortable for you.
Additional brands that you can consider for skinny jeans
Another popular choice when it comes to jeans for curvy women is NYDJ (Not Your Daughters ) Jeans as these are specifically made for those individuals with a curvy body and hips.
The trendy high waist in addition to the faded indigo color makes it look especially attractive. The material also allows makes it very much breathable and fits comfortably even when you sit down.
Tips on how to Buy Cheap Jeans for Sale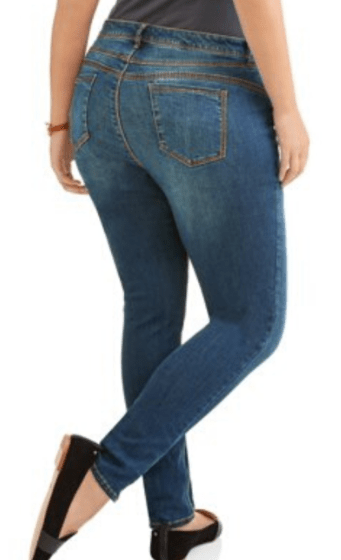 You also simply cannot go wrong with the J Brand jeans as they definitely provide a comfortable fit with a contoured waistband to reduce showing your crack.
The Blue Label is an excellent choice as it features an ink stained wash which provides a sleek look if you want to look more fashionable. Overall, these jeans for curvy women fit great and have positive reviews from others.
Being able to buy discount jeans on sale can really help to save a good deal of money so be sure to shop at online retail stores or take advantage of clearance sales at local department stores.
You can also be able to easily find plus size jeans or other women's clothing for sale if you are patient. Jeans for curvy women are definitely a trend that is here to stay and will most likely continue to remain popular.