Here are five easy pampering sessions you can have at home after the kids are in bed so you don't have to worry about booking a sitter.
1. Soak and Relax in the Bath
No pampering session could be easier than running a bath for yourself.
Why not make it a special and indulgent time by adding a few simple touches in the time it takes for the bath to fill?
Fluff some towels up in the drier.
Light some candles.
Put a few drops of aromatherapy oil in the water, or fill up with bubbles.
Put on some soothing music.
Smooth on a face mask.
Pour yourself a glass of wine or your favorite drink.
Grab a trashy magazine or hot novel.
Slip in and have a lovely, relaxing soak.
2. Treat yourself to a Manicure
Treat yourself to a new bottle of nail polish and set yourself up for a home manicure and pedicure. You can do it in front of the TV or wherever suits you.
This is what I call a classic pampering session. It benefits no-one but you. Lovely!
Here's how to do it: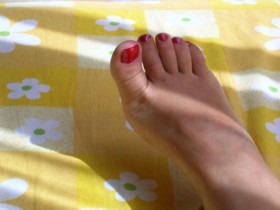 Use nail polish remover to take off any old polish you have on.
File your nails into the shape you like.
Soak your hands in warm soapy water for five minutes, then dry and gently rub cuticle cream (or moisturizer) into your cuticles.
Push the cuticles back very gently with an orange stick.
Massage your hands with a lovely rich hand lotion.
Wipe your nails with a damp cloth to remove excess oils and apply your new nail polish.
Go the whole way and start with a base coat, then two coats of your favorite color, and then finish off with a protective top coat.
Now do the same for your toes!
3. Escape into a Novel
Buy yourself a new novel (or borrow one from the library) and make time in the evenings to read.
Your local bookshop or library will be able to suggest some authors to try if you aren't sure where to start.
Reading a novel is better than TV or movies for real relaxation or escapism.
There's no noise to jar the nerves and you can put a book down if you have to check the kids without missing anything!
Turn off the TV.
Surround yourself with plump cushions.
Turn on a lamp for more direct lighting and a more relaxing atmosphere.
Put your feet up.
Let's make it a special pampering session by having some chocolate handy.
4. Have a Movie Night at Home
Get your favorite movie. Ask your partner or kids to join you if you know they won't whine about your choice. Otherwise set yourself up where you can watch in peace (maybe you have your own TV in the bedroom?).
Remember, for this to be a real pampering session it has to put you first for a change.
Make microwave popcorn.
Bring in heaps of pillows and cushions.
Turn off the lights and relax.
5. Dinner for Two or Dinner for You!
Once a week or month, or… ok, every now and then, make a date at home with your partner.
If you are a single parent you could ask a special friend or a group of friends, depending on whether you think you need company or romance.
This is adult time. Grownup conversations. Grownup attention.
Make (or order in) a special dinner.
Make sure the kids are in bed. Firmly remind them "It's Grownup Time now".
It doesn't matter if you've only ordered a pizza, set the table with your best everything, including candle and flowers.
Turn the TV off and some soothing music on.
Take time to talk and enjoy an uninterrupted meal together.